Malabass Home Page
Malabass basses are one of a kind handmade instruments, they are made out of the finest woods and materials. We currently specialize in 6 string Neck-thru basses, and the last 3 builds were of a fan fret design. We are also creating several guitars too dubbed Malabergers for their headless design, they are also bolt on necks with Moses Graphite necks. Please look through the gallery to see what we have going on now. We created a prototype neck thru Malaberger that was fitted with a Sustainiac pickup and sustainiac system for infinite sustain, it looks like the new Malabergers may also include those as well.
Current Builds
A pair of Malaberbergers guitars are in the works as we speak, and when the weather gets a little warmer we hope to be back in full swing creating new instruments. The Malabergers will feature Moses Graphite necks and will be very interesting. 1 will be for sale the other will stay here in the Malabass HQ and studio.
The last completed customer custom was another 6 string piccolo bass with gk2b pickup and internally mounting the hardware. No magnetic pickups on this one either. It uses an existing neck and we're just building the body out of shedua (Ovankol) top and back with a purpleheart core. It is the first bolt on bass made here.
We've also created a few other interesting prototype builds including an alternative to a keyboard controller using an customized Axis Harmonic Table instead of standard keyboard layout. A suprise was that it really makes a lot of sense musically since it's all about intervals not specific scales.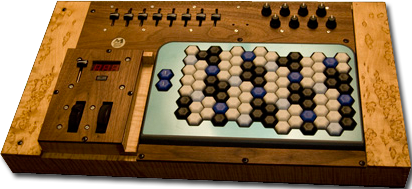 Also just for fun we created an Ashbory inspired tiny bass with a big sound. It's nickname is minime as a nod to Austin Powers.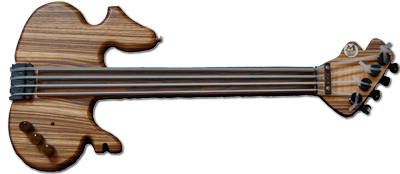 If it's headless or with a headstock there are many options available including Bartolini, EMG, Sustainiac pickups and electronics preamps and systems, also RMC piezo pickups and 13 roland style connector for your midi converter. We have Sperzel tuning machines and ABM bridges to all the Hipshot products. We can also integrate Moses Graphite necks for basses or guitars. All Mala instruments come equipped with DR strings unless you prefer another brand. We really prefer the coated DR strings for their great sound and long life. If you have a special need or favorite piece of hardware you want on your bass I'm sure we can get it. Let your imagination run wild and let us build your dream bass. We can also accomodate almost any scale you would like, 30", 32", standard 34", 35", 36", 37" or any scale in between. Let's say you want an upright scale of 42"? That can be done too.